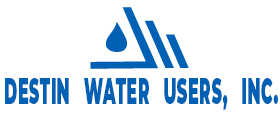 Welcome to the Destin Water Users, Inc.
We are pleased to offer online payment services for your convenience. Once you've signed in, you can access your past statements, see your payment history, make online payments via credit card and/or electronic check, and manage future payment dates. All payments processed after 4:30 PM will be credited to the account the next business day. Payments received after 4:30 PM on the due dates will be accessed penalties.

For billing or payment questions, you may contact us at cs@dwuinc.com or by phone at 850-837-6146 Monday through Friday from 7:30AM to 4:30 PM Central Standard Time.

DWU has identified needs to acquire land for future growth, replace aging buildings, infrastructure and equipment and convert to new technologies, some of which is due to new legislation. These needs coupled with the rising cost of materials and labor necessitated a twelve (12) percent rate increase for water and sewer rates to pay for these improvements to serve our members. The rate increase is effective with the January 2022 billing.