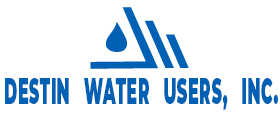 Welcome to the Destin Water Users, Inc.
We are pleased to offer online payment services for your convenience. Once you've signed in, you can access your past statements, see your payment history, make online payments via credit card and/or electronic check, and manage future payment dates. All payments processed after 4:30 PM will be credited to the account the next business day. Payments received after 4:30 PM on the due dates will be accessed penalties.
For billing or payment questions, you may contact us at cs@dwuinc.com or by phone at 850-837-6146 Monday through Friday from 7:30 AM to 4:30 PM Central Standard Time.
Destin Water Users Inc is happy to announce that we now have a Customer Portal. This portal will help you manage your account throughout the month. You can view your daily usage and set parameters so that you will be notified by text and/or email with an alarm. This will make sure you know of possible leaks quickly.
You can go to our website for step-by-step instructions on how to enroll. https://my-dwufl.sensus-analytics.com/login.html#/signin